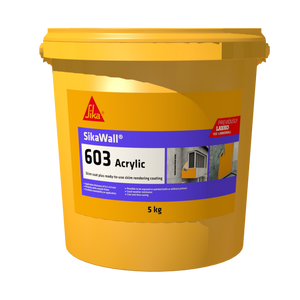 Usage
For interior and exterior walls, columns and ceilings:
Shuttered concrete
Reinforced concrete shell-work
Concrete soffits
Cast insitu concrete
Precast concrete panels/Acotec panels
Note: Painting on skimcoat surface is recommended for exterior application.   For interior use:
Light weight block plasters
Brickwall plasters
Drywalls - Gypsum boards, cement boards and plaster boards

Avantages

Application thickness of 0.3–4.0 mm
White smooth finish
Excellent trowelability
Can be overpainted
Good weather resistance
Cost and time saving
Ready-to-use acrylic skim coat
SikaWall®-603 Acrylic is a skim smoothing rendering paste that is used for levelling uneven surfaces and repairing surface defects in concrete, plasters and drywalls. A smooth surface is obtained by eliminating blemishes such as grooves, seams, fine cracks and blowholes.
Application thickness of 0.3–4.0 mm
White smooth finish
Excellent trowelability