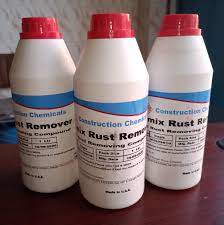 DESCRIPTION
Technical Datasheet Conmix Rust Convertor is a water based primer made of vinyl acrylic copolymer with rust converting agent that chemically reacts with rust and converts it into a stable, solid compound that is ready for further priming and painting.
Uses - Conmix Rust Convertor is recommended for use on fully or partially rusted steel surfaces as a rust convertor and as metal primer
Advanatges 
• Neutralizes iron oxides that cause rust and converts rust into a solid compound • Easy to use • • Can be used on welds • Enhances bond between treated surface and subsequent coatings • Non-toxic • Compatible with most paints
SURFACE PREPERATION
Ensure that the surface is free from dust, loose rusty flakes, and other contaminants like grease, oil etc. Also ensure that the surface is dry before application.
APPLICATION
Mix Conmix Rust Convertor well before use. Take required quantity of material and apply with a brush as it assists in penetration of the material into rust. Application on rusty surfaces will turn purple/black in 1-2 hrs as the reaction takes place. Apply second coat after 8 - 24hrs of first coat for better protection and performance.
OVER COATING
Conmix Rust Convertor can be over coated with range of paints and coatings like alkyds, epoxies, vinyl's, acrylics, polyurethanes etc. Before over coating with acrylics and water based systems, first apply solvent based undercoat to prevent bleed.
COVERAGE
10 - 12 m per ltr / coat