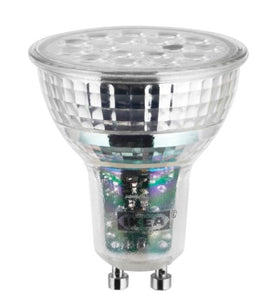 The LED light source consumes up to 85% less energy and lasts 20 times longer than incandescent bulbs. 
As the light can be dimmed, you are able to choose lighting suitable for every occasion.
The more you dim LEDARE bulb, the warmer the light gets, so you can easily create a soft and cosy light. 
Helps lower your electric bill because dimming the lights saves energy. 
The light from this LED bulb feels as strong as the light from a traditional 83W incandescent bulb. 
When the light bulb is dimmed, Kelvin (the color temperature of the light) automatically decreases, which provides a warmer light. 
LED life time approx. 25.000 hours. 
Light color: warm white (2700 Kelvin).
The light bulb can be used in temperatures from -20°C till +40°C.
Dimmable.
Lights up directly when switched on.