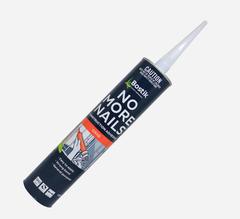 Bostik No More Nails is a multi purpose construction adhesive. It is a general-purpose adhesive suitable for interior or exterior general construction work. Being highly water resistant, styrene safe with high initial grab. It is a very versatile product.
No More Nails is a gunnable synthetic rubber based adhesive which exhibits excellent green strength, flexibility, good temperature resistance and good slump resistance.
FEATURES AND BENEFITS
• Nail free general construction adhesive.
• High bond strength.
• Excellent adhesion and sealing properties.
• Excellent green strength.
• Good temperature resistance.
• Chemical resistant.
• Good slump resistance.
• Bonds a variety of construction and building materials.
• Ideal for interior and exterior applications.
• Easy to use and cost effective.
APPLICATION:
Bostik No More Nails can be applied either as a two-way contact or a one-way stick adhesive. In both cases the first requirement is that both surfaces to be bonded are clean and dry and free of grease, oil or dust. Any loose or flaking paint must be removed and lightly sanded before application. (Surface temperatures should not exceed 30°C and the product should not be used where continued exposure to elevated temperatures will occur). To one of the freshly prepared surfaces apply a 4 – 6mm bread of adhesive with a cartridge or extrusion gun, or similar type profiles with a notched trowel. Beads should not be more than 45cm apart and butt joints should be adhered on both panel edges. Bring both surfaces together immediately.
• Two-Way Method Press firmly over entire surface to transfer adhesive and then pull both surfaces apart. Allow to tack-off for a few minutes (3 – 5 minutes depending on ambient weather conditions) and then, reposition and press firmly together. Contact areas should then be tapped with a hammer via a padded block to ensure intimate contact. Depending on the weather conditions and surfaces bonded, maximum bond strength will take from 12 – 72 hours to be reached. Some weighted panels may require temporary mechanical fastening that should be retained for at least this period.
• One-Way Method This method is recommended for heavier panels or those that are formed to place a loading or stressed memory on the bond line. After applying adhesive and bringing substrates together, they should be sufficiently clamped, nailed or screwed in a fashion that maintains maximum contact.